This post has been archived and may contain outdated information.
Please contact us if you have any questions about the correctness of this post!
Ahhh, a new semester. A big welcome to our January-start students, and welcome back to returning students! We're so happy to see all of you, we have no chill whatsoever.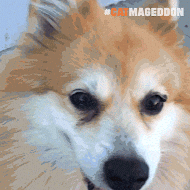 Getting back into the swing of that #campuslife (or getting into it for the first time) can be tough. Our advice is to be really gentle with yourself while you ease back into a routine. Now's a great time to start putting your campus supports into place, so when your schoolwork starts to get more intense, you already have a plan for taking care of yourself.
With that in mind, we encourage you to come over to the Wyckham House Student Centre (by West Gate) and check out some of the services SAMRU offers.  If you've never made your way over to Wyckham House before (we see all you business students hiding over in EB!), make it your new year's resolution to stop by and check it out; I guarantee you we offer a service you'll find useful, whether it's free breakfast or help with your taxes or just a place to crash for a few hours. Your fees pay for it, so you might as well get the benefits of using it, right?
Here's our guide to getting the most out of your Students' Association during your time on campus.
Destination Wyckham: How to find what you need on campus, when you need it
I'm hungry and/or thirsty!
We have a very strict "never study hangry" policy here at SAMRU. Stop by the Food Court (the main floor of Wyckham House, right past the Link) and you can pound back a burrito on your way to class. If you have a bit more time on your hands, though, you could stop in at the Hub, a full service sit-down restaurant and bar. Paying a visit to the campus pub is as much a rite of passage for university students as term papers, pop quizzes or throwing your mortarboard and having it freeze in midair, but the Hub isn't just a bar—it's a meeting point for all the different communities on campus, and a great place to just relax. Whether you're hoisting the beverage of your choice, awkwardly bumping into your profs or meeting up with pals for board games night, the Hub's always a great place to be. Plus, if you're on a budget, there's always fun stuff brewing on Wednesday and Thursday nights at the Hub, and it's always cheap or even free for students! Check out all the Hub's weekly programming here.
I'm sleepy!
Did you know there's a Nap Room in Wyckham House? It's true! We heard from so many students that they needed somewhere comfy to catch a few winks on campus that last year we made one of the rooms in Wyckham House a dedicated napping space. You'll find the Nap Room in Z302 (on the third floor of Wyckham House) and is open Monday to Thursday from 11:00am until 4:00pm.
We ask that anyone using the Nap Room please keep their phones, laptops, and tablets tucked away: it's a screen-free zone. There are lockers for you to store your stuff, so you can snooze away without worrying about your bag.
I'm sick!
Toothache? Cramps? Need a refill on your prescription? Head to the Wyckham basement, where you'll find Wyckham Pharmacy and Dental Choice. Both get rave reviews from students, and you couldn't ask for a more convenient location.
"But SAMRU," you cry, "I just paid tuition and I'm broke as a joke!" Not a problem—part of your student fees goes towards covering the Student Health and Dental Plan, and Wyckham Pharmacy and Dental Choice are both happy to work with you to make sure you're covered. Which reminds us: the Student Benefits Plan Office is also located in Wyckham basement (Room Z001), and they're always glad to help if you have questions about your coverage.
Already covered under a different plan? No problem! Just make sure you opt out of the Student Benefits Plan by February 2, 2018, and you'll be reimbursed. And while we're on the subject of money…
I'm broke!
Ooh, yeah; this is a tough one. There are only so many ways to add pizazz to a 60-cent packet of ramen. That's why SAMRU has so many programs to help lessen the financial burden on students. You can save money by grabbing free breakfast in the Peer Support Centre (PSC; Room Z210) every weekday from 8:45 am until supplies run out during the fall and winter semesters. If you need some basic necessities like shampoo or canned goods, you can dip into the Emergency On-Campus Food & Hygiene Cupboard, also located in the PSC. If you have access to a kitchen and want to cook your own meals, save money on produce with the Good Food Box. You can save money preparing your tax returns in the spring with our free Tax Clinic. And if you really need some help to get by until your next student loan cheque arrives, you can apply for an interest-free Emergency Student Loan of up to $300.
We know textbooks don't grow on trees (well…technically they do, but you know what we mean), so why not buy 'em used at the SAMRU Used Book Sale, or sell your books from last year to make a little extra cheddar? This year the book sale runs August 22 – September 21 and will take place in the Yellow Room (Z203, on the second floor of Wyckham). Visit samru.ca/usedbooks for more details. (You can also help your Representation Executive Council advocate for more open educational resources this January during OER Days, and help reduce this financial burden on students!)
We also offer the SAMRU Awards to honour student excellence, and they come with cash prizes! The nomination period is currently open, so if you've contributed in a significant way to the campus community or you know someone who has, stop by Reception (Room Z222) or click the link above to grab a nomination form.
I'm sad/angry/struggling academically! 
If you're having academic or non-academic struggles and don't know how to navigate the university red tape to get what you need, the Student Advocacy Office has your back. They'll coach you on how to resolve conflicts with a prof or the university, when to appeal a grade, who to see about a human rights accommodation and much more.
If that all seems too intimidating and you'd rather just find a friendly ear to talk to, get thee to Peer Support. After all, who better to give advice to students than a fellow student? Your peers know how you feel because they've been there, and Peer Support volunteers receive extensive training to make sure they know how to listen effectively and know which services to direct you to.
I'm booooooored!
Volunteer! Join a club! Stop in at Crafternoon on Wednesday afternoons and make something pretty! Talk to your student reps about how they can work to improve your student experience! Stop by the Global Citizen Centre or the Pride Centre and ask about upcoming programs! There are so many ways to get involved, and we can't shut up about it!
Look. We know how it is. We've all signed up for a million things during Clubs & Campus Expo and then stealthily unsubscribed from all mailing lists three weeks later, but keep an open mind: it can be really empowering to get involved in your campus community, especially if you're away from home for the first time and feeling lonely. So be brave, roll up your sleeves and click a link or two; your people are out there, we promise.
I'm flailing and I don't know exactly what I need!
Okay, that's fine! Take a deep breath. Drink some juice. We've got this.
First things first: don't be shy—ask someone for help! The Mount Royal community is the best; chances are whoever you ask will be happy to point you in the right direction. Or maybe they're new too and as lost as you are—you can figure it out together. They could even be your future bestie.
When in doubt, stop by SAMRU Reception (Room Z222). Those folks know where everything is and will be happy to help you, or to point you towards someone who can.