How to do May long weekend on a budget
This post is dedicated to those who don't get paid until next week. 😞
Aside from actual vacation time spent away, is there anything more glorious than a long weekend? Three days of workfree relaxation, but this May long weekend comes with a catch… and if you happen to be paid bi-weekly, you may be running low in the fund's department at the end of the month. With rising gas and food prices, heading out of town may also seem daunting.
So how can you spend the long weekend without breaking the bank? Let's check out some activities you can do right here in Calgary. Did someone say staycation?
Hone in on your baking skills
Not only can baking help satisfy that savoury or sweet craving you have, but research proves it also can help lower stress hormones such as cortisol and epinephrine. Not only can this help to ease stress and anxiety, but this also leads to an improvement in your sleep, immunity levels, blood pressure and more! The same research team did a study that also showed that those who engage in small creative projects, such as cooking a meal or baking a treat, feel more excited and enthusiastic about what they did the following day (Milan, 2021).
Need some inspo? Why not try one of these spring-inspired baking recipes?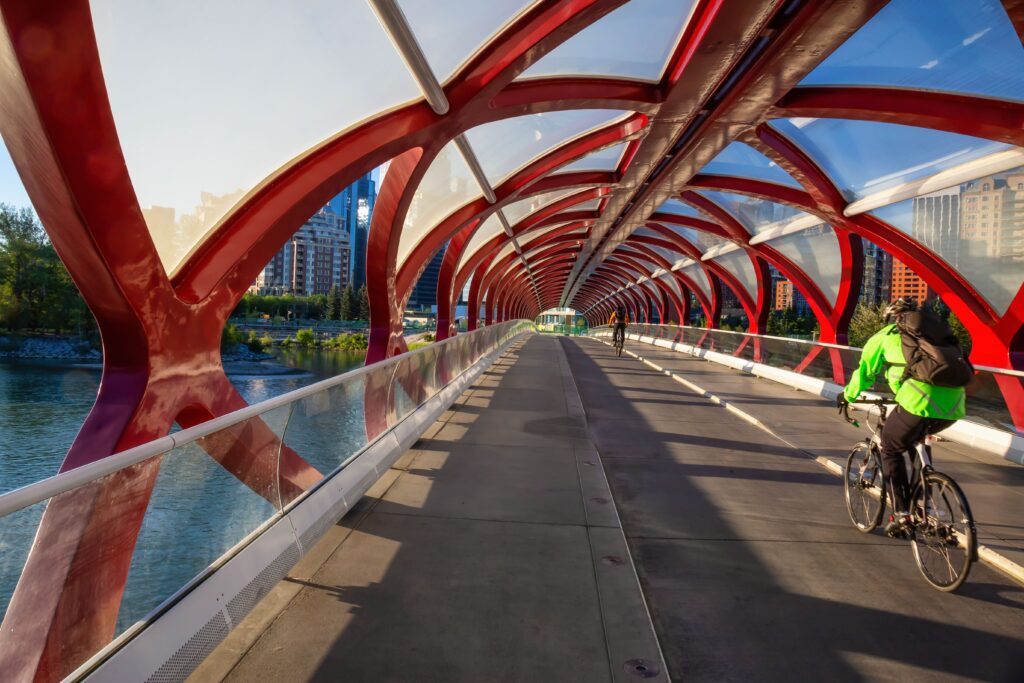 Take advantage of Calgary's 1000 km of bike pathways and walking trails
Calgary communities, parks and natural reserve areas are connected by a network of park pathways available for all Calgarians to enjoy throughout the summer months. Whether you're walking, running, skating or cycling, you can enjoy 1000 km of paths and 96 km of walking trails.
Cycling and walking routes can be found using the interactive pathways and bikeways map below. Download the print version here.
Kick it old school
There's a reason board games still exist in the digital age: they're fantastic! There are plenty of good games to get into, even for adults; try one of these this long weekend:
• Catan – A strategy game for 3-4 players where each player has to use their resources wisely to build the most efficient and largest settlement on the island of Catan. It's a fun, noisy game you can play for about one to two hours.
• Risk – the goal is to take over the world. You deploy your army on certain territory to stop invasions and achieve domination. As well as your strategic thinking, you're also relying on the dice to roll your way. Risk is a long and involved game that can sometimes go on for days. Or you can play it quickly and be the ruler of the world by dinner time.
• Dungeons and Dragons – Thanks to the hit TV show Stranger Things, D+D is back in a big way. This game has been played for more than 45 years, and some players have literally been playing it for 35 years straight! D&D is essentially a 'Choose Your Own Adventure' game, but the relationships between the players keep them locked in. Warning: some people get really, really into it.
Tune into a Battle of Alberta playoff hockey game
Last night the Calgary Flames made it to the second round of the NHL playoffs, winning 9-6 and will play the Edmonton Oilers in the first "Battle of Alberta" playoff series since 1991, and for some of us, that is before we were even born!
The heavily anticipated Game 2 is scheduled for Friday, May 20th. Catch the battle live at the Saddledome or check out the Red Lot community viewing space. Tickets breaking the bank? Hit up a local spot on the Red Mile or catch the game at a pal's.
Did you hear about the wager MRU has against Edmonton university Grant MacEwan? The terms of the bet dictate the losing university will fly the flag of the winning team on its flagpole on campus for a day and donate $1000 to the winning university's food bank.
Check out some art
Are you looking for something new to do in Calgary while keeping the recommended physical distance? Check out some of Calgary's 25 Public art features! You can see many of them from your car or walk around the city. Look for local Calgarian artists' work while you're out and about. Downtown has also invited many guest artists from all over the world in recent years, so there are a lot of unique and inspiring pieces located within the city.
Community fire pits
Don't have access to a fire pit? Utilize the many fire pits located around the city, and explore the City of Calgary's bookable fire pits finder to see if there is one near you! Smaller residential-style fire pits are set up at select community parks and are free for the public to use from 10 a.m. to 9 p.m. on weekdays and weekends. You can book a pit using the online tool.
Picnic in the park
With Calgary's flowing rivers come beautiful park spaces to enjoy outdoor picnics. Picnics are great for socializing outdoors and supporting local food vendors. Beautiful parks within the city include Lindsay Park, Stanley Park, Confederation Park, and Sandy Beach Park. Check out one of our earlier blog posts Top five Calgary parks to visit this summer for inspo.
Many local Calgary vendors offer the perfect eats to enjoy on a picnic. Check out local eateries such as Sidewalk Citizen Bakery near East Village, Moose and Poncho tacos in Chinatown (their DIY taco kit is perfect for picnics), or Tokyo Street Market in Cresent Heights.
Stay safe
Whatever you choose to get up to this weekend, ensure you stay safe, act responsibly, and respect the choices and actions of others. The past two years have been hard on all of us, so let's ensure we all get some peace and relaxation this May long weekend!
The SAMRU offices will be closed on Monday, May 23nd and reopen on Tuesday, May 24rd at 9:00 a.m.