Your REC Team Wants to Hear From You: Introducing Living Room Letters!
In the coming weeks, SAMRU REC's (Representation Executive Council) Vice President Student Affairs, Pamela Malec, will be engaging in a new initiative geared towards connecting with students and learning more about their time on campus.
Set in a comfortable and informal space, REC is bringing the comfort of home to campus through the Living Room Letters program. Students are invited to sit, relax, and chat with their student representatives about getting involved on campus. Free refreshments will be provided for all participants. Visitors will also be asked to fill out a short questionnaire on what encourages student participation in on-campus activities.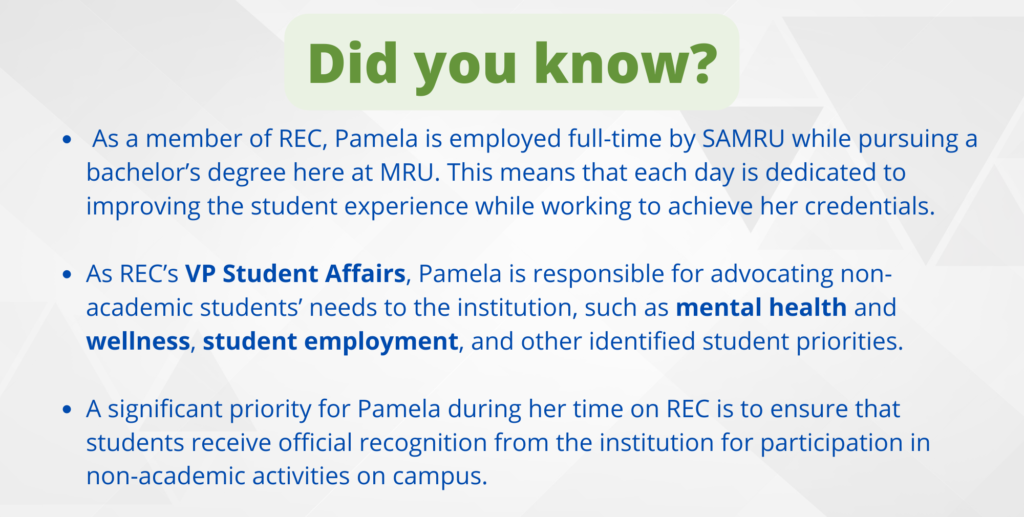 Hosted in familiar spaces that students already frequent, such as the MRU Library and Main Street, this is an opportunity for students to engage in direct conversation with their REC team and have meaningful conversations about the issues that matter to them.
Though your representatives are seeking information about getting involved on-campus, all feedback is welcome in this informal dialogue; students are encouraged to bring forth questions, complaints, or concerns. REC hopes to foster a sense of belonging and create an environment where students feel comfortable sharing their thoughts and ideas for improving campus life. Should the need arise, REC will also provide students references to existing services, on- or off-campus.
All students are invited to take part, regardless of their year of study or program. The valuable feedback that the REC team receives from these conversations will be used to inform future advocacy and representation efforts.
So far, the Living Room letters program is scheduled to take place this week, with additional locations and dates planned for October and November:
Main Street
Monday, September 26, 1pm-4pm
Tuesday, September 27, 1pm-4 pm
Wednesday, September 28, 9am-12pm
Thursday, September 29, 9am-12pm
Keep your eyes peeled on SAMRU and REC communication channels for updates on further Living Room Letters sessions coming up! You can also visit this link to learn more about the four REC members this year and how to get involved or become an elected student representative yourself!