REC Advocacy Goals and Priorities for 2022-23
Today, we are excited to provide you with a look at some of the most pertinent goals we will work towards in the 2022-23 Academic year. This includes strengthening communication channels between MRU and its students, helping students feel more confident voting in the provincial election, and refining the instructor evaluation process in a more accountable direction. Each new academic year means new possibilities for advocacy and representation!
As your 2022/2023 Representation Executive Council (REC), we have been elected by MRU's student body and employed by SAMRU's Student Governing Board. As a team, we are responsible for advocating student issues, such as tuition and loan policies and mental health initiatives, to the institution and to all three levels of government. To represent all post-secondary students' interests, we work with other student groups, like the Canadian Alliance of Student Associations (CASA) and the Council of Alberta University Students (CAUS).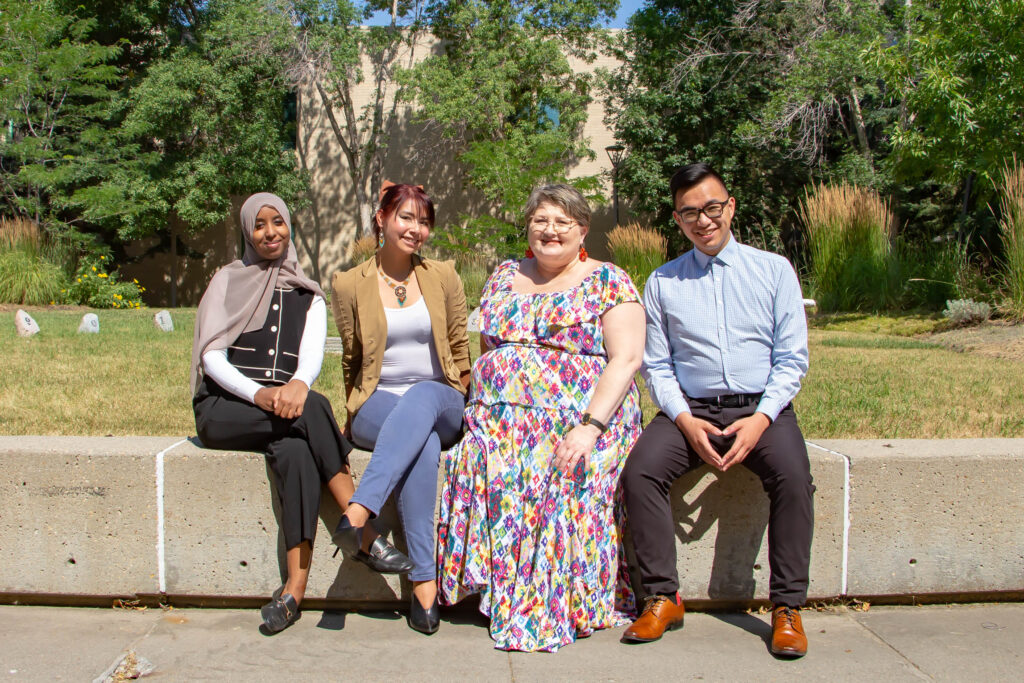 This year, the REC team wants to:
Strengthen Communication Between MRU and Students
This term, a big priority is improving communication channels between SAMRU members (MRU credit students) and the institution to increase engagement and deliver the information that matters more effectively. For students, this will mean additional transparency and reassurance around critical issues such as tuition, online learning, mental health, COVID-19 regulations, and more. The MRU Administration team will also receive a better understanding of the most pressing issues from a student perspective. In meetings with the MRU administrative team, REC members consistently communicate the things that students appreciate.
Connect with you online and in person to find out more about your student experience
Another priority for this year is to create opportunities for our members to connect with us directly. We want to empower Mount Royal students to share their questions, concerns, and feedback about University life – everything we hear from students is brought forth to on-campus committees and used to inform our advocacy work. Below are a couple of events we have planned where students can provide us with their feedback:
Living Room Letters: Led by our VP Student Affairs, Pamela Malec, this will be a chance for students to meet with their REC team face-to-face to learn more about their Mount Royal experience and receive references to services on- or off-campus. Set in a cozy and informal space with snacks provided, this will be a no-pressure opportunity to have a meaningful conversation with your student representatives and have your voice heard.
Town Halls: On the more formal side, we host Town Halls on an ongoing basis, approximately once per semester. In these events, we seek to share insights into our advocacy work and lobbying efforts by opening the floor to students. Town Halls are offered in a hybrid model, simultaneously occurring live in person and being streamed so everyone can participate. We welcome you to submit your questions, concerns, and feedback in advance, as the insights we receive from students help to support and inform our positions and representation efforts.
Connect with us anytime by emailing representation@samru.ca with any questions, concerns, issues, or feedback– we want to hear from you!
Inform you about what we're doing
Every month, we share key highlights from the previous month's advocacy work in the form of short blog entries and Instagram Reels. These monthly updates will give readers a deeper insight into our most recent work and provide an excellent way for us to give updates on our term goals and projects while presenting data findings and other pertinent information to our members.
Make sure students are aware of and engaged in the provincial election
In preparation for Alberta's Provincial Election, we will host a Get Out The Vote (GOTV) campaign to educate students about the ins and outs of the electoral process and help them feel confident casting their ballots. Through the months leading up to the election, we will be collecting pledges to increase voter registration and sharing information to ensure everyone feels empowered to participate in the electoral process. If an election is called sooner, we'll ensure students have all the info they need to get to the polls and make an informed decision.
Refine the instructor evaluation process
We are currently working to improve the instructor evaluation process. At present, two kinds of instructor evaluations exist at MRU: Student Perception of Teaching (SPOT) evaluations (used for most lecture and lab sections) and Student Evaluation of Instruction (SEI) evaluations, which collect and report student feedback about their instructors.
Through research, consultation of the existing process, and assessment of student feedback, we have recognized that standardizing SEI evaluations and making them mandatory would be the most effective way to ensure accountability. This effort is ongoing, so stay tuned for further information about this goal!
---
As always, keep your eyes open for updates, statements, and more on these upcoming initiatives on social media by following the SAMRU REC (@samrurec) on Twitter. If you have questions, you can always contact us directly at representation@samru.ca. You can also visit this link to learn more about the four REC members this year and how to get involved or become an elected student representative yourself!