Breaking Boundaries with the Women in Science and Technology Club
Today (February 11th) is the International Day of Women and Girls in Science and Technology. This annual observance promotes the equal access and participation of women and girls in science, technology, engineering, and mathematics (STEM) fields.
We connected with SAMRU's Women in Science and Technology club, or WIST, to celebrate our very own campus women in STEM, and learn what inspired the ratification of their club, what drives them, and what's next!
---
Summary:
Founding WIST
Research Night
High School Panel
SAMRU Award
What's Next for WIST
Founding WIST
The club aims to empower self-identifying women in STEM through meaningful opportunities and discussion, and to enlighten women to recognize their potential and break boundaries. The club was formed out of necessity, to form a community on campus where none existed prior.
"We saw this need for more representation of women in science and technology. We saw that many other universities had a club where like-minded women could come, create a community, have all these similar opportunities, and find that sense of togetherness," says co-founder Liza Zamani. The general science major serves also as the club's co-president.
"We saw this gap that we needed to fill, and we decided to bring that to Mount Royal, and that's where WIST was born."
The club is in its second year of ratification and continues working to fulfill its mission by hosting regular events and meetings.
"We're here to support women in our faculty and let them know that we can provide opportunities and connections that can further equip them to pursue higher levels of education or give them the confidence to pursue certain opportunities they don't feel they're capable of," explains co-founder Basira Yaqoub, a biology major and the club's co-creative director.
Research Night
One of the club's most popular and successful events is Research Night.
"We want to create a network of women in science and tech who are there to support each other. In this faculty, as we embark on this career-building journey, we try to connect students like ourselves to professors who are already established in the field," explains health sciences major Amirah Azmi, the club's co-president.
"If you look at the statistics, women don't make up much of our fields in the workforce. We outnumber men in undergraduate studies, but that turnover to the workforce is so low, so we want to combat that before it even starts."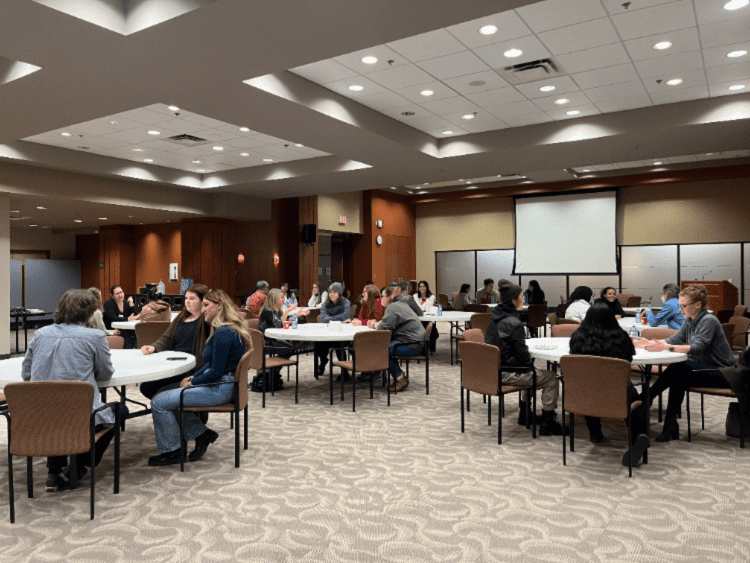 This event saw professors currently teaching or researching in the faculty of science and technology meeting one-on-one with members of WIST. This allows the club's members to build their networks, find research positions, and get advice on how to get started in their fields.
"My first interaction with WIST was last year at Research Night," recalls Isra Yu. The biology student now serves as co-creative director of WIST.
"It was definitely nice to see the women in my faculty gather around; they were all very knowledgeable about everything going on. I get a lot of advice from my acquaintances at school, but having a whole group where it was very structured was nice to see," Yu says.
Research Night provided a chance for WIST members to learn more about current opportunities in their faculty and connect with their professors. It was a much-needed opportunity and something that, WIST's executives recall, wasn't so easily available to students in their faculty.
"One student told me about one professor she was frequently trying to contact for a research opportunity. It wasn't until research night that she got to have that one-on-one conversation and see how she could further communicate her interest in the research that he was performing," explains Yaqoub.
"We hear from our members that they feel really appreciated and supported because pursuing science as a woman can be a very scary thing, whether culturally, professionally, or socially. It isn't always supported."
High School Panel
While WIST works to provide benefit to its current membership, the club also works to engage the next generation of women in science and technology.
"In high school, you feel you get a vague description of your degree, your time in university, and your future profession," explains Yu.
"And as university students, we look more towards getting as much advice and experience from people who have graduated and are pursuing their careers with the jobs they got from school. So we want to provide this mentorship experience to young women that are maybe frightened or unsure about pursuing science."
In this two-day panel held in the Fall 2022 semester, aspiring scientists from high schools across the city were invited to meet with post-secondary students from MRU, the University of Calgary, and the University of Alberta to see what it's like to be a woman in science and technology.
"I feel some young women can sometimes be afraid to pursue science and do something that is not really encouraged in women. Where there isn't a lot of support, we encourage them. Science is fun and cool; if you like it, you should do it," says Azmi.
"We want women in science and tech to have the skills necessary to speak up for ourselves and to be go-getters – go get what you want because you've dedicated 4-5 years of your life to this field, and you deserve to be a part of it!"
SAMRU Award
In 2022, the WIST club received an Excellence in Member Services award at the annual SAMRU Awards.
"[Being awarded] funding from SAMRU helped us expand our events and plan new ones. It can provide honorariums for our guests and the beverages we provide at these events, and it shows that SAMRU supports and sees what we're doing. That recognition was really great and exciting," explains Yu.
"We really enjoy getting the community together, and one thing that alleviates a lot of the stress for the club is to get the finances in order."
The executives explained that they weren't expecting much when they applied for a SAMRU award, but they were thrilled to receive it.
"There are a ton of great clubs that do amazing things for their members, and we were new at that point, so we thought we'd just apply and see what happened, but when we got it, we were so genuinely excited because that meant that the quality of our club could increase exponentially," says Azmi.
Applications for the 2023 SAMRU Awards are open now! If you belong to a club that you believe has gone above and beyond for its members, consider applying for this award before the February 28th deadline!
What's Next
WIST is planning another exciting event, the Professional Schools panel! Those familiar with the club may recall that this event was also hosted in the Fall 2021 semester, but the club has big plans to expand it!
Last year's panel featured women from professional schools – dental, veterinary, medical, optometry, and pharmacy. Members got to learn more about these specific fields, and the club plans to expand this event to include graduate and Ph.D. students from areas like computer or environmental science. Look for more on the professional schools panel in the coming months!
As a longer-term goal, the club seeks to establish an alumni chapter.
"It's still in the planning phase, but it would entail women who have graduated from MRU with a science degree joining the chapter and joining us for a speaker series or a panel, talking about their experience of leaving the faculty of science and entering the field. We want to see what students from MRU have done and where they have gone because that's someone to look up to," says Zamani.
WIST's executives have spent two years building a professional club and establishing its legacy, but it will be up to the next generation of women in science and technology to carry the torch.
"This club is our baby. We've built it from the ground up – Mount Royal has been around since 1910, and this is the first club of its kind. So we had to lay down the foundation, we've worked tirelessly for two years, and we feel that it's time to pass it on to the next generation of women," explains Azmi.
"We want to create longevity, and it needs to be a sustainable club. I feel like we've prepared the people actively involved with WIST; they know how we work and are interested in our mission and goals."
This change in leadership is inevitable soon, as the current executive team will either be graduating or stepping down from their positions.
"We really want to continue WIST through generations, which depends on the women in our faculty who are in their first, second, and third years. We want to gravitate their interests to the club to further help these limitations put on women and girls in science and tech," says Yaqoub.
If you're a self-identifying woman pursuing a career in science and technology, looking at switching majors and are interested in science, or looking to head to med school after your undergraduate degree, WIST wants you to know that you belong in their club. You can learn more about the club here, and find WIST on Instagram @WIST.mru.
"We want to inspire and motivate women who might feel they are not seen in a science program. I know that I've felt not seen in my program and classes, and I know I've heard of professors and people in the field feeling like that – it's not a great feeling when people don't really believe in you because of your gender or your identity. I want people to know that WIST is a safe space and a place for equal opportunities," says Zamani.
---
If you represent a SAMRU club and would be interested in meeting with us to be featured in  a profile like this one, please reach out to communications@samru.ca! We would be grateful for the opportunity to share your club with the campus community!